We hear it often, from our family and from our friends. Well maybe not them because as they have a differing opinion, so they politely keep it to themselves. Maybe instead it is the stranger in the store that asked, "Shouldn't you be in school…?" Then again maybe it is family or close friends and we can tell by body language, sideways glances, and maybe the occasional muttering under their breath.
What about socialization…?
sigh…
Do I dare tell them that I am not worried, not even in the slightest?
Socialization
I wish I could say the opinions of others don't effect me and that if their opinion on home education is different than mine then, oh well. Yet this is family, these are friends and I actually care about what they think.
If I care about what they think, shouldn't they care about what I think? 
Do you ever feel this way?
Recently, I have received some passive aggressive comments in conversation from family that disagree, it wasn't direct and quite honestly it caught me off guard because it wasn't said in the proper context. Afterwards, I replayed the conversation in my head and I must confess, my feelings were a little hurt.
I was with my aunt, whom I love very much, really I do. I had gotten comfortable with sharing our home education journey with her. She had made it that way by asking questions in a thoughtful way, seeming to be genuinely interested, and responding in a encouraging manner. This particular day I was sharing the perspective of my thoughts on homeschooling being holistic- an education that encompasses the whole child. Before I could get into the details she cut in with a sharp critical remark, "I completely agree children need to be socialized."
I'm embarrassed to admit that I floundered, even little ole' me who has grown quite confident in all things homeschooling. I sputtered through what was left of the conversation, ignored the untoward comment, and changed the subject. In hindsight, this is what I wish I had said instead…
Socialization isn't a Concern
Dearest loved ones, I am not worried about socialization, not even a little.
this is why…
Some still may have an early 90's homeschool stereotype mindset, now let's broaden that narrow view. In the 90's homeschoolers were just coming out of an era were home education was actually illegal. Yet, the homeschooling pioneers knew that it was wrong, even unlawful to make home education illegal in the first place.
After all, before there ever was conventional school everyone was homeschooled. Let that sink in…repeat it if necessary.
Now many have been conditioned to think that the only way a child can socialize is with same age peers in a classroom setting, yet nothing could be further from the truth. If you are a non-homeschooler and you are reading this, think for a moment. When in your entire life (outside of conventional school) will you ever be in a social setting where everyone is the same-age? Now open your mind for a moment and think- home educated children are learning their social skills by being out in the real world.
Need more examples? Read this article: 20 ways to socialize as a homeschooler.
Parent Led Social Skills
Outside of the many different ways that home educated children get out and socialize…I actually teach my children social skills, not just social skills but social etiquette.
One frequent way I do this is by taking them to a local park or right now it is the beach. They free play and interact with all sorts of different children and even adults (other kids parents). Later or even sometimes on the spot we discuss the social encounters. One of my children needed extensive help in this area so we actually read social stories. These are my favorites:
Yes these are my amazon referral links…if you purchase these through this link I will receive a small amount of compensation at no extra cost to you.

Join In and Play (Learning to Get Along®)
Talk and Work It Out (Learning to Get Along®)
Know and Follow Rules
Food For Thought
Still not buying it…
If you do not homeschool yet and you know someone who home educates and you question their ability to "socialize" their children. Take a moment and consider this…What do you do during summer break? Summer vacation for public schooled children roughly lasts from early June to Late August, does that mean your children are isolated or secluded for those months? I would guess not and after you read this article I want you to take that perspective with you. You are probably scheduling playdates, letting them free-range with the neighborhood kids, or attending community events, you are doing something and that is what we do as homeschooling families 365 days out of the year.
What About Groups?
My dear sweet cousin…I love her. She visited several weeks ago and she brought up socialization. It was again a passive aggressive remark. She was using her preschool age niece as an example because her niece's family had not put her in preschool and she questioned this parenting choice in a negative manner. I was somewhere between trying not to burst into laughter and just being plain mean. I have a well trained tongue and so I held it. Instead I said nonchalantly, "It is preschool, it isn't that difficult, it is colors, shapes, letters, numbers.(shrugs)" Her response irked me not only because it lacked knowledge but because It was literally word for word an ignorant sentence that I wrote about in this article: A Rebuttal To Popsugar's "What Homeschoolers Get Wrong About Socialization."
I don't know if my cousin read my article, I highly doubt it, but from the sounds of it she read the Popsugar article that recently was republished. Laurel Niedospial a former school teacher with no personal experience from within the homeschool community wrote: "Socialization is about having to do a group project with people who don't necessarily work the same way as you do, to collaborate on ideas and grow as a thinker." Please don't look this women up, she lacks experience and knowledge from within the homeschool community, and I don't want to give her anymore page views-instead share my article.
Real Advice: Former Teachers Turned Home Educators
If you want seasoned homeschool advice from a former public school teacher then join  The Christian Homeschool Oasis  and glean some wisdom from Tina Hollenbeck. I reached out to Tina creator of The Homeschool Resource Roadmap and this is her response: "Those who believe that homeschooled kids are not 'properly socialized' are thinking in a paradigm different from the frame of reference homeschooling families adopt. The world at large looks at the issue from a horizontal perspective, believing that the end goal of 'socialization' is to get kids to 'fit in' with other kids (especially with the limited cohort of kids of the exact same age, give or take nine months).
While we homeschooling parents certainly want our children to get along with same-aged peers, we think more broadly and deeply, viewing the issue from a long-term, vertical perspective. In other words, because our ultimate goal is to move our kids toward becoming mature adults of strong character, we know they shouldn't be limited to forced association with large groups of same-aged peers in the artificial environment of school buildings, all day, every day.
Instead, our kids spend time with people of all ages and backgrounds in many different venues, interacting with and learning from them all. From that vantage point, then, it's inaccurate to talk about a 'lack of socialization' among homeschoolers. Our kids don't lack 'socialization' at all; instead, they are simply 'socialized' differently from kids who attend conventional schools because we homeschoolers reject typical 'socialization' in favor of a different path. Our approach only seems to be 'lacking' by those who refuse to see the bigger picture that homeschoolers embrace."
or
talk to Julie Ross author of A Gentle Feast curriculum. Ask either about Common core or standardized testing, I dare you.
Yes- this is also my referral link because as a fellow homeschool educator I support the homeschool community, which may mean I write a candid blog article and share amazing curriculum options in the process. If you purchase through my affiliate link, I will receive a small compensation which doesn't cost you anything extra. You will pay the same amount either way- Oh wait use my discount code "holistic" at check out and get 10% off until June 30th, so I actually saved you money, so hey there you go.
Click picture to read more about A Gentle Feast.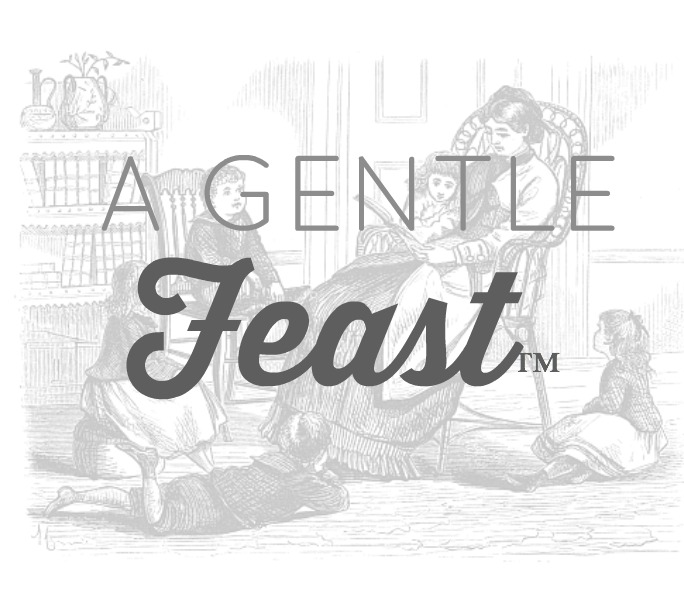 If you are a loved one that is still concerned about socialization in a homeschool please don't use a former public school teacher's subjective opinion who has absolutely no experience from within a homeschool community. This is like asking a person who doesn't have children for parenting advice. It should be dually noted that receiving unsolicited homeschooling advice from a non homeschooler is similar to receiving parenting advice from a non-parent. If you have ever experienced that then you know it is irritating, lacks experience, knowledge, and it is often laughable to say the least.
Group Socialization
I explained previously that home education has evolved, we have so many homeschool cooperatives it is outstanding. In our area alone, we have two that have a 300+ homeschool student body. My family and I belong to one of them so any concerns about "group socialization" outside of our family can be addressed here. Although I have to tell you from one homeschool mom to another, this is a ridiculous argument. Just because you are a homeschooling family doesn't mean you all think the same way, I am sure you have had plenty "differing" ideas gathered around the dinner table. If you can teach your children to gracefully move through those heated discussions then you have taught them something far more important.
However, I like evidence and research too…
I grabbed this gem of information from the National Home Education Research Institute: "Homeschooled children's social skills scores were consistently higher than those of public school students. Differences were most marked for girls and for older children, and encompassed all four of the specific skills tested: cooperation, assertiveness, empathy, and self-control. Among homeschooled children, girls were more empathetic and assertive than boys, and at the lower grades, more self-controlled. These results mirror gender differences found among public school children––girls tend to have better social skills than boys in grades 3 through 6 (Source: Gresham & Elliott, 1990)."
or this article from the homeschool legal defense association…
"Thomas Smedley prepared a master's thesis for Radford University of Virginia on "The Socialization of Homeschool Children." Smedley used the Vineland Adaptive Behavior Scales to evaluate the social maturity of twenty home-schooled children and thirteen demographically matched public school children. The communication skills, socialization, and daily living skills were evaluated. These scores were combined into the "Adoptive Behavior Composite" which reflects the general maturity of each subject.
Smedley had this information processed using the statistical program for the social sciences and the results demonstrated that the home-schooled children were better socialized and more mature than the children in the public school. The home-schooled children scored in the 84th percentile while the matched sample of public school children only scored in the 27th percentile." (source:hslda.org)
Public School Socialization
I really hate to make this an us or them issue…
It isn't my intentions, even if my family came across lacking knowledge in this area I still love them and my response comes from a place of love. Which means anyone considering home education and currently is comparing it to public school, should know that school violence is currently categorized as a public health problem by the CDC. (CDC: fact sheet)
To be frank, this isn't a us or them scenario, because home education is customized based on the individuals within the family. Which is far different then the one size fits all school system.
Home educated children are receiving real world exposure and guided parent-directed socialization without the added health risk of school violence.
What are your thoughts on homeschooling and socialization?