Holistic Homeschooler is an influencer of A Gentle Feast and may receive compensation if you purchase through affiliate links. This doesn't cost you anymore money, it simply compensates for writing this review. For more information check out my: Disclosure Policy
A few weeks ago I shared a video review of A Gentle Feast, which is curriculum based off of the Charlotte Mason Philosophy. After, I received various requests on how A Gentle Feast compares to Simply Charlotte Mason. Personally, I haven't tried using SCM, reading what was on their website was enough for me. Yet, to give my readers a quality response I wanted to share the perspective of someone with a seasoned inside view.
I then sought out Chelli Guthrie who is a homeschool mom to three children and wife to "Preacher Man." She writes over at The Planted Trees and has "tried nearly all the CM curriculum." She also is the author of Revitalize: Breathing Life and Encouragement Into Your Homeschool, which was published in May 2017.​
This is her perspective…
AGF & SCM Comparison
A Gentle Feast is the new kid on the block in Charlotte Mason homeschool curriculum circles and the one that I personally have chosen to use in our homeschool for the foreseeable future (read my full review here). I'm not new to homeschooling or Charlotte Mason methods, so why did I choose A Gentle Feast over other Charlotte Mason curricula, specifically Simply Charlotte Mason?
Read on.
Similarities between AGF & SCM
Both A Gentle Feast and Simply Charlotte Mason are based upon the work of Charlotte Mason and the school she founded in the late nineteenth century in England, thus both curriculums include all of the facets of a Charlotte Mason education planned for you. Both curriculums also allow you to combine across grade levels or forms, as Ms. Mason phrased it.
Click picture to checkout A Gentle Feast!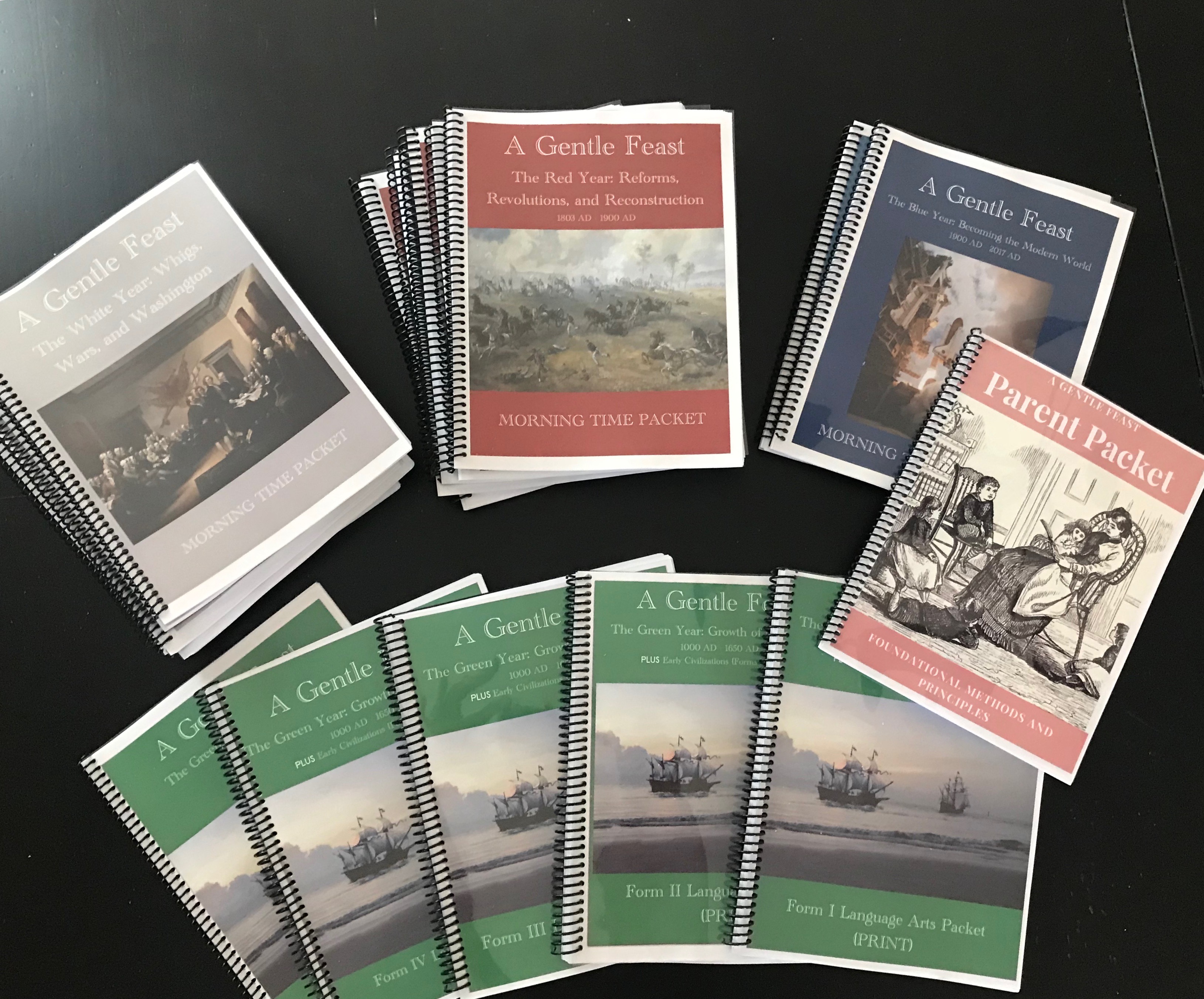 AGF & SCM Science Comparison
While following Charlotte Mason's educational philosophy is the goal, A Gentle Feast and Simply Charlotte Mason interpret her philosophy differently as well. When it comes to the sciences, A Gentle Feast uses a variety of living books to study various scientific disciplines from kindergarten through high school, with nature being the focus in early elementary while the other sciences such as physics, chemistry, astronomy, physical science, etc. are touched on in upper elementary and middle school. For high school A Gentle Feast uses living books, along with guides from A Sabbath Mood Homeschool, to cover the typical high school science rotation of biology, chemistry, and physics.
Simply Charlotte Mason takes a similar approach to the early years of science instruction but publishes their own science guides to go along with various living books that are purchased through them or free in the public domain. However, once you enter the middle school and high school years, Apologia textbooks are used for science instruction, which some consider to be skirting the edge of what a living book is and some consider them to not be a living book at all.
Differences between AGF and  SCM
A Gentle Feast provides weekly plans and book lists along with other parental supports, but book purchases are up to the parent to find and procure. Simply Charlotte Mason also provides plans and book lists, but also has a bookstore on their website where you can actually include in your purchase most of the books and resources used in the program, so you can have almost everything you need in one box or download sent to you.
While both programs provide plans for the homeschool parent, A Gentle Feast's plans are more loosely structured. Basically the curriculum provides a weekly schedule of books broken down into reading assignments or, in the case of the riches of a Charlotte Mason education (poetry, art, music, folk songs, hymns, etc.), an assigned work for the week to learn about and study. While it sounds simplistic, this simple, loose schedule is great for homeschool parents who wish to have an outline of what to do, but enough leeway in that outline to substitute books or combine grade levels. If you purchase A Gentle Feast, you can access four and five day schedules for each form on the members only section of the website, so that even more planning is done for you.
In contrast, Simply Charlotte Mason has much more structured lesson plans provided for each subject. While books are assigned, there are also guides for history, geography, and Bible, another one for math, language arts, and science, and a final guide for enrichment (the riches mentioned above). In each of these guides, readings will be given along with extra work to be completed based upon the reading or the enrichment being studied. Simply Charlotte Mason and most CM curriculums I have used in the past have this approach. Instead of finding this amount of detail useful, I found it stifling due to the inability to swap out book choices easily or move quickly through our day without completing all of the tasks. If I pay money for lesson plans, I feel obligated to use them instead of skip them.
History Comparison
Probably the biggest difference between the two, and ultimately why Simply Charlotte Mason never worked for me, is the history rotation.
AGF History
A Gentle Feast follows the history rotation that Charlotte Mason used in her school. Children begin their history studies with stories about their own country for the first three years, then add in a country with close ties (in the case of the United States, that would be Great Britain). Finally, in fifth grade, children begin rotating through ancient history and the early Middle Ages as well. To expand, for fifth through twelfth grade, students would be studying both American and British history of the same time period while adding a study of an ancient time period as well.
You would fold in younger students/siblings into the same time periods of study that their older siblings were already in as they reach school age, keeping everyone in the family on the same time period allowing you to combine grades/forms as desired.
SCM History
Simply Charlotte Mason uses the Bible as its basis for history, so what it looks like is a six year history rotation that spends three years covering ancient history before moving on to one year of Middle Ages, Renaissance, Reformation history, one year of Early Modern history, and one year of Modern history.
The reason for the drawn out coverage of ancient history is because Simply Charlotte Mason uses the Bible as its base text while adding in secular history as it fits the timeline, so while studying Ancient Egypt and other Near East empires, you would be reading Genesis through Deuteronomy.
This pattern follows into the next books about Ancient Greece while reading Joshua through Malachi and Ancient Rome while reading through the Gospels and Acts. As a former history teacher, I can appreciate the weaving of Biblical and secular history, but so little of what we have of recorded history is from the ancient time period that spending half of my child's history education studying ancient civilizations while then trying to cram the bulk of history into the remaining three years was not something I wanted to do.
Click picture to read more about A Gentle Feast.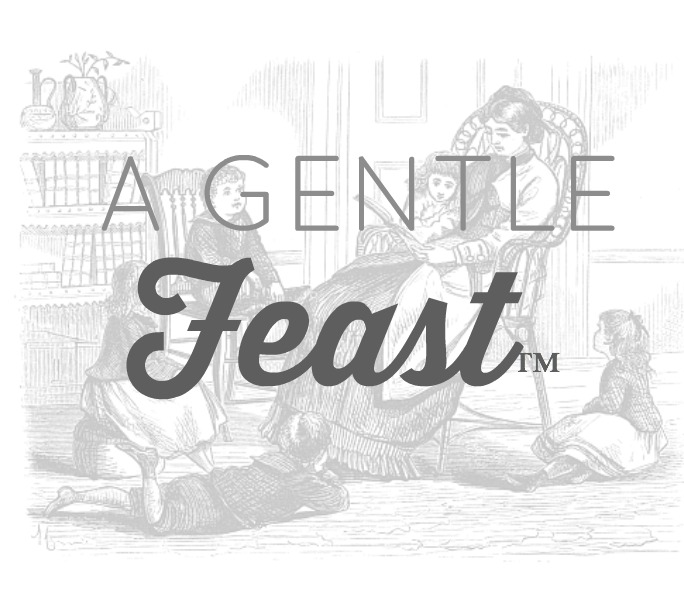 Comparison Summary
Ultimately why I'm choosing to use A Gentle Feast over other Charlotte Mason curriculums is summed up nicely in the following list:
• The book choices are easy to find and a good combination of more modern choices alongside classic book choices used in most Charlotte Mason curriculums and plenty of free public domain books as well.
• Since A Gentle Feast provides a loose schedule and assignment list to follow, it provides an easy, yet structured flow to our day that I can feel confident in swapping out books, adding extra studies if I wish to, or combining children.
• Having access to all the books used in all of the grades/forms, I can truly customize my child's education by choosing books from various forms if I wish based upon that child's strengths and weaknesses.
• The history rotation is a great way to go deep in each time period while at the same time moving through all of history every four years.
• The use of living books for all subjects from kindergarten through high school is a huge plus since many times high school is seen as being difficult to use living books to cover requirements.
• The amount of teacher support within the curriculum itself along with a super helpful online presence where you can contact the author herself with questions or brainstorming sessions.
• The student books that are available to purchase allow all of your child's Charlotte Mason language arts and enrichments to be in one place for ease of use.
Of course, no curriculum is perfect and I love and use many of Simply Charlotte Mason's individual products, but A Gentle Feast has provided something that I've been looking for a long time in the Charlotte Mason community. You might want to take a look as well.
Chelli Guthrie is a homeschool mom to three children and wife to "Preacher Man." When she's not educating the kids or blogging at The Planted Trees, you can generally find her with her nose in a book, cooking up something yummy in the kitchen, or, if she's really lucky, you can't find her at all because she's traveling with friends and family. Her first book, Revitalize: Breathing Life and Encouragement Into Your Homeschool, was published in May 2017.​