A really good friend of mine also homeschools. We met through our homeschool co-op's facebook group. In fact, I jokingly call her family our doppelgänger homeschool family- at least until they added a third bundle of joy. Our kids are the same ages and genders, our husbands both work in the medical field. What is even funnier, we somehow manage to pick the same curriculums without knowing what the other decides on until after the fact.
This is how serious is….
Last year we both picked My Father's World Curriculum and near the end decided the following year we were going to piece our curriculum together. This past fall we sat together after both of our daughter's ballet lessons and began to share what we planned on using going forward.
It sounded like this:
"A Reason For Hand Writing."
followed by an excited, "Me too."
"All About Reading."
Another excited, "Me too."
Yes this was the homeschool moms version of stepbrothers.
Now we are both nearly done with this years All About Reading program and we both agree-we love it!
But why?
For an extensive review of AAR click here: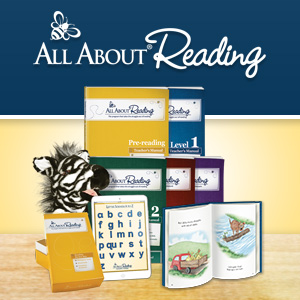 AAR Love
1. It is multisensory all in one lesson using visual, auditory, and kinesthetic learning.
2. It uses magnetic letter tiles.
3. We love the sight words flash cards.
4. We really love the phonogram app.
5. We love that our kids love the reading games.
6. Once you establish the rhythm it is open and go.
7. We like that the magnetic letter tiles are color coded to enhance visual learning.
8. We love that it focuses on the individual learner and allows the child to progress through a lesson at his/her pace.
9. We love that the lessons build upon one another.
10. Our Children enjoy the accompanying readers.
11. The lessons are so strategically constructed in a sequential order that it leaves no gaps.
12. Our daughters are becoming confident readers.
13. Whenever we have to call or email with a question AAR is supportive and friendly.
14. We love that AAR offers tons of free resources on their site.
15. Their seems to a be a light skit to follow in each lesson making it much easier to teach.
16. I love the divider cards it came with to separate the mastered flash cards, cards that need reviewed, and ones for future lessons-It keeps them all nicely organized.
17. We love that It is a mastery based  program.
18. It has actually made it easier for our children to learn how to read by having direct and clear lessons.
19. The lesson plans include word building activities using the letter tiles.
20. We love that fluency and comprehension are built into each lesson.
My doppelganger homeschool mom and I had our usual after ballet get together today. We gushed about how much we love this reading program. We plan to use it again next year and save it for our younger children.
Do you use All About Reading? If so, what do you love about it?